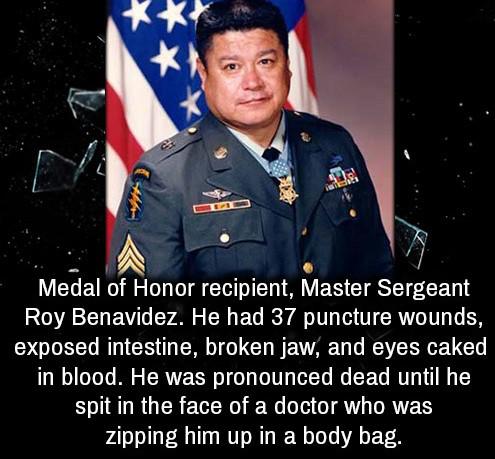 Mar 31 , 2023
Raul "Roy" Perez Benavidez, a Mexican-American born in Lindenau, Texas, on August 5, 1935, lived a life marked by determination, courage, and selflessness. His story, beginning from humble origins and culminating in extraordinary heroism, serves as an inspiration to countless individuals.
Early Life:
Benavidez was the son of Salvador Benavidez, a Mexican-American sharecropper, and Teresa Perez, a Yaqui Indian from Arizona. His early years were marked by adversity, as he lost both his parents to tuberculosis by the time he was seven years old. Benavidez and his younger brother, Roger, were subsequently raised by their grandfather, uncle, and aunt in El Campo, Texas. At a young age, Benavidez began working as a migrant farmworker, picking cotton and other crops to help support his family.
While he was still in school, Benavidez was inspired by the stories of WWII Medal of Honor recipients that he read in newspapers. These tales of courage motivated him to enlist in the Texas Army National Guard in 1952. In 1955, he transitioned to active duty, joining the U.S. Army. Benavidez eventually became a member of the elite 82nd Airborne Division and, later, the 5th Special Forces Group.
In 1965, during his first tour in Vietnam, Benavidez stepped on a landmine, resulting in severe injuries to his spine. Doctors predicted he would never walk again, but Benavidez was determined to prove them wrong. Through sheer grit and perseverance, he underwent an arduous rehabilitation process, ultimately regaining the ability to walk. After recovering, Benavidez returned to active duty, joining the 5th Special Forces Group in Vietnam.
The Heroic Rescue:
On May 2, 1968, Roy Benavidez's life would change forever. While off duty attending church, he overheard a radio transmission that a 12-man reconnaissance team was trapped and surrounded by a large enemy force in the jungles of Cambodia. Without hesitation, Benavidez volunteered to assist in the rescue effort.
Armed with only a knife and his medical bag, Benavidez boarded a helicopter and flew toward the besieged team's location. Upon arrival, he jumped from the hovering helicopter and ran through the heavy enemy fire to reach the wounded men. Despite being wounded himself by enemy gunfire and grenade shrapnel, Benavidez continued to fight, administering medical aid to his fellow soldiers and calling in airstrikes.
Over the course of six hours, Benavidez repeatedly exposed himself to enemy fire, sustaining multiple injuries. In one instance, he was stabbed by an enemy soldier's bayonet, which he countered by killing the assailant with his own knife. Throughout the ordeal, Benavidez moved the wounded to the helicopter extraction point, even carrying some of the injured soldiers on his back.
When the extraction helicopter finally arrived, Benavidez loaded the wounded men on board. As the helicopter began to take off, he realized that one soldier was missing. Despite his severe injuries, he returned to the battlefield to search for the missing team member, ultimately locating and carrying him to the helicopter. It was only after ensuring that all of the wounded men were on board that Benavidez allowed himself to be pulled onto the aircraft.
Astonishingly, Benavidez had sustained 37 separate injuries during the rescue mission, including gunshot wounds, shrapnel wounds, and bayonet lacerations. His fellow soldiers believed he was dead and began to place him in a body bag. Only when Benavidez managed to muster the strength to spit in the face of the medic did they realize he was still alive.
Recognition and Legacy:
In recognition of his incredible acts of courage and selflessness, Roy Benavidez was initially awarded the Distinguished Service Cross. However, in 1981, after further review and eyewitness accounts, President Ronald Reagan upgraded the award to the Medal of Honor. During the presentation ceremony, Reagan famously said that if the story of Benavidez's heroics were a movie script, it would be deemed unbelievable.
After retiring from the military, Benavidez continued to serve his country by becoming an advocate for veterans' rights and dedicating his time to motivational speaking. He shared his story with audiences across the nation, inspiring countless individuals with his message of determination, sacrifice, and resilience.
Roy Benavidez passed away on November 29, 1998, but his legacy lives on. His incredible story of courage in the face of insurmountable odds serves as a testament to the power of the human spirit. Today, he is remembered not only for his heroism but also for his unwavering commitment to his fellow soldiers and his determination to rise above adversity.
In a world that often seems beset by darkness and despair, the life of Roy Benavidez stands as a beacon of hope and inspiration. His actions remind us of the extraordinary feats that can be achieved through courage, selflessness, and an indomitable spirit. Benavidez's legacy continues to resonate with generations of Americans, serving as a powerful reminder that even in the face of overwhelming challenges, one individual can make a difference.
By honoring the memory of Roy Benavidez and sharing his story, we can inspire others to embrace the values of bravery, determination, and service to others. In this way, we can keep his spirit alive and ensure that his extraordinary sacrifices and contributions to our nation are never forgotten.
---
---