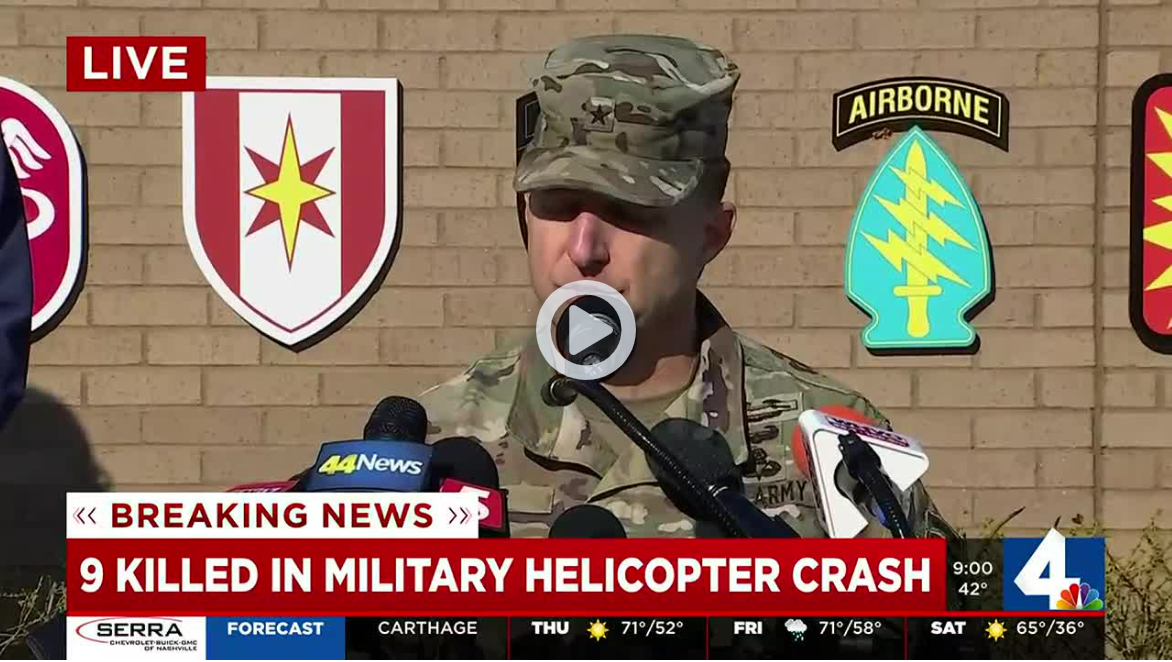 Mar 30 , 2023
Nine U.S. Army servicemembers from Fort Campbell died after two Black Hawk helicopters crashed during a training exercise in Kentucky Wednesday night.
The HH-60 Black Hawk helicopters from the Army's 101st Airborne Division crashed around 10 p.m. Wednesday in Trigg County, Kentucky, to the west of the Army installation Fort Campbell, the division said in a Thursday statement. One helicopter was carrying five, another four, according to officials from the military installation.
The names of the nine who died in the crash were not released as investigators notify next of kin.
CADIZ, Ky. (WSMV) - A military investigation is underway, and nine soldiers are dead after two Black Hawk helicopters from Fort Campbell crashed Wednesday night in Kentucky, according to state and federal officials.
The helicopters crashed just after 10 p.m. on Wednesday near Maple Grove Road and Lancaster Road in Cadiz, said Brig. Gen. John Lubas, a deputy commanding officer for operations at Fort Campbell's 101st Airborne Division. All nine crew members, four soldiers in one helicopter and five in the other, died in the crash, Lubas said at a press conference at Fort Campbell Thursday morning. Their identities have not been released, as Fort Campbell continues to notify crew members' families.
"This is a truly tragic loss for our families, our division, and Fort Campbell," Lubas said. "Our number one priority is caring for the families and soldiers ... Our thoughts and prayers are with these families and soldiers during this difficult time."
Family has identified one of the victims as Staff Sgt. Caleb Gore, 25, who is from Wayne County, North Carolina.
"He was a loving and wonderful child, everything a father could possibly wish for," Tim Gore, his dad, said in a tribute. "He couldn't wait to join the Army. (He) enlisted before he graduated. He loved the army. (He) become an airborne medic and studied to get in 'in-flight certification' so he could do medical intervention in the helicopter as he performed the rescue.
Gore said his son was soon to become a registered nurse and was taking leadership training so that he could continue his career as he got older by training others in this field.
"He was a real-life Captain America with the only desire of his heart to rescue those in harm's way," his dad wrote.
---
---