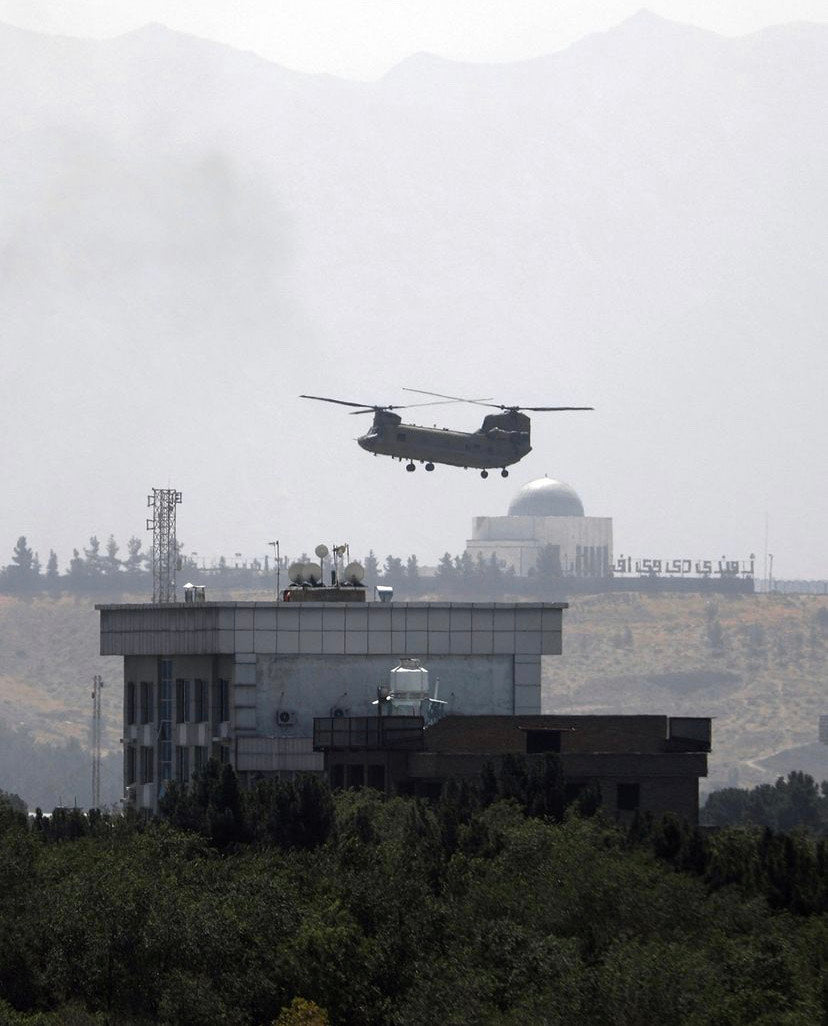 Aug 15 , 2021
The Biden administration has ordered U.S. Embassy personnel in Kabul, Afghanistan, to retire and destroy American flags as a way of enduring additional global embarrassment as Taliban forces reach the outskirts of the city on their way to retaking control over the entire country.

The rapid advance of Taliban fighters, said to number only about 65,000-75,000 in comparison to what was an Afghan National Army force of about 300,000, has already been a stain on the administration, which appears to have been completely unprepared for the turn of events following President Joe Biden's order to withdraw American forces ahead of the anniversary of the Sept. 11, 2001, terrorist attacks that led to the U.S. invasion of Afghanistan two decades ago.

"Facilities will provide destruction support between 0830 and 1600 daily until further notice," said an internal diplomatic memo, the Washington Post reported. "Please take advantage and reduce the amount of sensitive material on the property."
In bold font, the memo added: "Please also include items embassy or agency logos, American flags, or items which could be misused in propaganda efforts."
The memo, titled "Emergency Destruction Services at the Garrison," was directed to "All American Personnel."
Meanwhile, Diplomatic Security is preparing for a crisis, calling on volunteers with "High Threat, High Risk" experience for "24/7 operations supporting U.S. Embassy Kabul," per an internal memo I obtained. The subject line: "Afghanistan Task Force Volunteers Needed Immediately" pic.twitter.com/eWAJ4jem7H

— John Hudson (@John_Hudson) August 13, 2021
In addition to the memo, as reported by WaPo national security correspondent John Hudson, the State Department's Diplomatic Security chief has also issued an urgent call for volunteers to support the embassy evacuation effort as well, after Biden ordered an additional 5,000 U.S. troops into the capitol.
The call, from Acting Deputy Assistant Secretary for Threat Investigations and Analysis Carlos Matus, is seeking volunteers with "High Threat, High Risk" experience for "24/7 operations supporting U.S. Embassy Kabul," Hudson noted in a tweet posted Friday.
Just last month, Biden assured Americans that "the likelihood there's going to be the Taliban overrunning everything and owning the whole country is highly unlikely."
36 days ago, President Biden told the American people that the Taliban would not take over #Afghanistan after he ordered the removal of U.S. troops. pic.twitter.com/FiG5pWsyey

— POLARIS (@polarisnatsec) August 13, 2021
Meanwhile, Taliban fighters entered the outskirts of Kabul on Sunday, but reports say that they don't plan on taking the capital by force, though witnesses on the ground reported to the Associated Press that sporadic gunfire could be heard.
Taliban fighters entered the districts of Kalakan, Qarabagh and Paghman in the capital but have halted their advance, according to reports, vowing a "peaceful" takeover.
"No one's life, property and dignity will be harmed and the lives of the citizens of Kabul will not be at risk," a statement from the Taliban said, the AP added.
Suhail Shaheen, a spokesman for the militant group, told Qatar's Al-Jazeera English media division Taliban forces are "awaiting a peaceful transfer of Kabul city."
The AP also reported U.S. military helicopters could be seen flying into and out of the American Embassy compound in Kabul on Sunday, as well as armored diplomatic SUVs as it appeared more American troops were being ferried in as well. Diplomatic sources told the newswire that smoke seen near the Embassy was the result of personnel destroying reams of sensitive documents.
US helicopters seen this morning at US embassy Kabul. It seems the evacuation is underway. Photo by @AP pic.twitter.com/YxMQQeRF29

— Liz Sly (@LizSly) August 15, 2021
Afghan President Ashraf Ghani on Saturday spoke to his country for the first time since the Taliban's lightning assault began a little more than a week ago, informing citizens that agreements the government had made with regional warlords have fallen by the wayside as they have either surrendered to the Taliban or fled. And with his country's military disintegrating, he has been left with no viable defense option.
Other NATO countries are responding as well. The Czech Republic is also evacuating its embassy in Kabul, having already taken diplomatic staff to the airport. And reports in Britain noted that London is also evacuating its embassy after some 600 troops were deployed to the country last week to assist around 3,000 British citizens and 2,000 Afghans who worked with British troops.
Former Secretary of State Mike Pompeo on Thursday said the collapse of Afghanistan under Biden appeared inevitable after his administration abandoned "deterrence" protocols established by his State Department under then-President Donald Trump.
"Looks like this was poor planning, poor leadership and that the model of deterrence that the Trump administration had in place as we prepared to bring the soldiers, sailors, Marines, everybody who's on the ground there home — looks like they have not been able to execute this," Pompeo told Fox News.
"Big strategy depends on planning and execution. Looks like there's a bit of panic. I hope that they have the right number of folks and they can get them there quickly. I hope we can protect Americans in the way the Trump administration had every intention of doing as we drew down our forces there," he noted further.
At the White House, officials said that a virtual briefing on the evolving situation to House members was planned for Sunday, Fox News reported. The briefing will be given by Secretary of State Antony Blinken, Defense Secretary Lloyd Austin and Gen. Mark Milley, chairman of the Joint Chiefs of Staff.
Earlier, Biden, along with Vice President Kamala Harris, were briefed on Afghanistan as well as and the evolving earthquake disaster in Haiti.
This morning, the President and Vice President held a video conference with the national security team to discuss the ongoing efforts to draw down our civilian footprint in Afghanistan. In addition, the President and Vice President were briefed on the earthquake in Haiti. pic.twitter.com/7BKSdJ8OKo

— The White House (@WhiteHouse) August 14, 2021
---
---