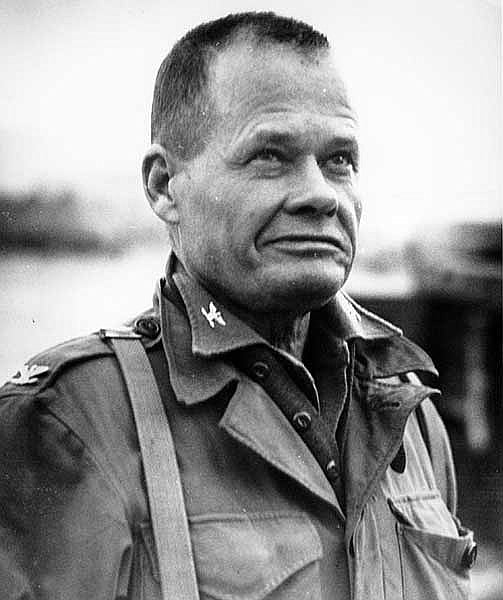 Jun 14 , 2023
Well…that's an easy one.  He's the biggest bad ass to ever be a Marine!
Lewis Burwell "Chesty" Puller stands as an icon in the annals of the United States Marine Corps. His tenacity, courage, and leadership made him a legend, earning him more Navy Crosses than any other Marine in American history. Chesty Puller's career spanned three decades, from the Banana Wars in Central America to World War II and the Korean War.

Born in 1898 in West Point, Virginia, Puller harbored a desire to join the military from a young age. Enlisting in the Marine Corps in 1918, he quickly established a reputation for his unyielding toughness and leadership skills.

His first real taste of combat came during the Banana Wars in the 1920s and 1930s. These interventions in Central and South America were intended to protect American commercial interests. Puller showed outstanding leadership skills during these conflicts, earning his first two Navy Crosses.

But it was during World War II and the Korean War where Puller's legend truly took shape. In the Pacific theater of World War II, Puller commanded the 1st Battalion, 7th Marines - one of the most hard-pressed units of the war. In the Battle of Guadalcanal, his men were charged with holding a crucial airfield against a much larger Japanese force. Despite the odds, they held their position, and Puller earned his third Navy Cross.

Puller's greatest display of leadership came during the Korean War at the Battle of Chosin Reservoir. His Marines were surrounded and vastly outnumbered by Chinese forces in freezing conditions. Puller, however, remained unfazed. He rallied his men saying, "We've been looking for the enemy for some time now. We've finally found him. We're surrounded. That simplifies things." His leadership during this intense battle resulted in him receiving his fifth Navy Cross.

Throughout his career, Puller became known for his straightforward, aggressive style and his deep care for the infantrymen under his command. He was a leader who would never ask his men to do anything he wouldn't do himself. This attitude, coupled with his distinctive toughness, earned him the nickname "Chesty" and the deep respect of his men.

By the time of his retirement in 1955, Puller had become the most decorated Marine in U.S. history, earning five Navy Crosses and one Army Distinguished Service Cross. His legacy continues to inspire Marines, and his name is often invoked as a battle cry - "Goodnight Chesty, wherever you are!"

Chesty Puller was a warrior's warrior - tough, gritty, and indomitable. His unwavering commitment to his men and his extraordinary courage under fire make him a legendary figure not just in the Marine Corps, but in the wider sphere of military history. Today, we remember Chesty Puller not just for the battles he fought and won, but for his enduring spirit and dedication to his country. His story remains a beacon of heroism and resilience in the face of adversity.
---
---