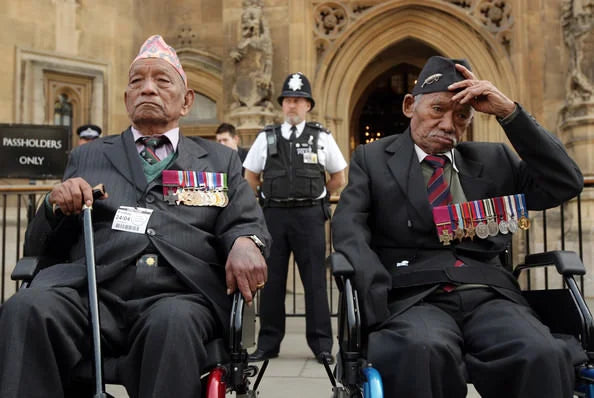 Jun 13 , 2022
Lachhiman Gurung was a Nepalese-British Gurkha recipient of the Victoria Cross, the highest and most prestigious award for gallantry in the face of the enemy that can be awarded to British and Commonwealth forces. He is best known as the "Gurkha who took on 200 soldiers with only one hand"
On May 12th, 1945 at Taungdaw, Burma, Rifleman Lachhiman Gurun was manning the most forward post of his platoon which bore the brunt of an attack by at least 200 Japanese enemy infantry.
Lachhiman Gurung, who has died of pneumonia aged 92, was one of 13 Nepalese Gurkhas to win the Victoria Cross while serving with the British army. The exploit that earned him Britain's highest military gallantry award stands out even in such exalted company.
During the second world war, General Sir William Slim's 14th Army, fighting hard in the most atrocious conditions, managed in February 1944 to halt a fierce Japanese thrust on the southern Arakan front in Burma, while General Orde Wingate and his guerrilla-style "Chindits" mounted an assault in the centre and General Joseph Stilwell led Chinese and American troops in the north.
By July, Japanese casualties had exceeded 60%. Slim's forces won major victories at Kohima and Imphal, terminating the threat to India. But the Japanese fought on through to the spring of 1945. At the end of April, the 89th Indian brigade from Slim's 7th division was ordered across the Irrawaddy river to destroy a Japanese force as it withdrew towards the Taungdaw valley. Gurung's 4th battalion of the 8th Gurkha Rifles detached two companies to block their escape.
But instead, it was the Gurkhas who were encircled and cut off. At the village of Taungdaw, Rifleman Gurung was helping to man a small forward position some 100m in front of the rest of the Gurkhas and came under attack by hundreds of Japanese. An enemy victory at that point would have been a major setback for the British.
During a savage action, Gurung twice snatched up Japanese grenades and threw them back before they detonated. Another landed on the outer edge of his trench and Gurung attempted a third "return to sender", but the grenade went off in his right hand, destroying his fingers, shattering his right arm and wounding other parts with shrapnel.
Gurung ignored his many wounds and carried on firing with his left hand – a considerable feat, as the bolt-action rifles of the day were made for right-handed use. "Come and fight a Gurkha!" he yelled, as wave after wave of Japanese troops tried for four hours to overrun the position. They failed. The 4th/8th Gurkhas held out for another 48 hours until relieved on 15 May.
Gurung was born in the Tanhu district of Nepal, the Gurkhas' homeland. He joined up at the end of 1940, even though, at 4ft 11in, he fell one inch short of the minimum height standard of the brigade. After his heroic stand, Gurung lost his right hand and was left blind in his right eye. He remained on active service until 1947, when India became independent, and he transferred to its army, retiring later in the year with the rank of havildar (sergeant).
In 2008 the diminutive figure of Gurung, always wearing his row of medals, with the VC in pride of place, became a familiar sight in the British media, alongside another Gurkha VC holder, as they fought for Gurkha veterans' right to settle in Britain on retirement. The actor Joanna Lumley, daughter of a British Gurkha officer, led a highly visible and ultimately successful campaign. Gurung also managed to persuade the Home Office to rescind a deportation order against his granddaughter, who was looking after him in west London.
Gurung is survived by his second wife, Manmaya, their two sons, and two sons and a daughter by his first wife.
---
---