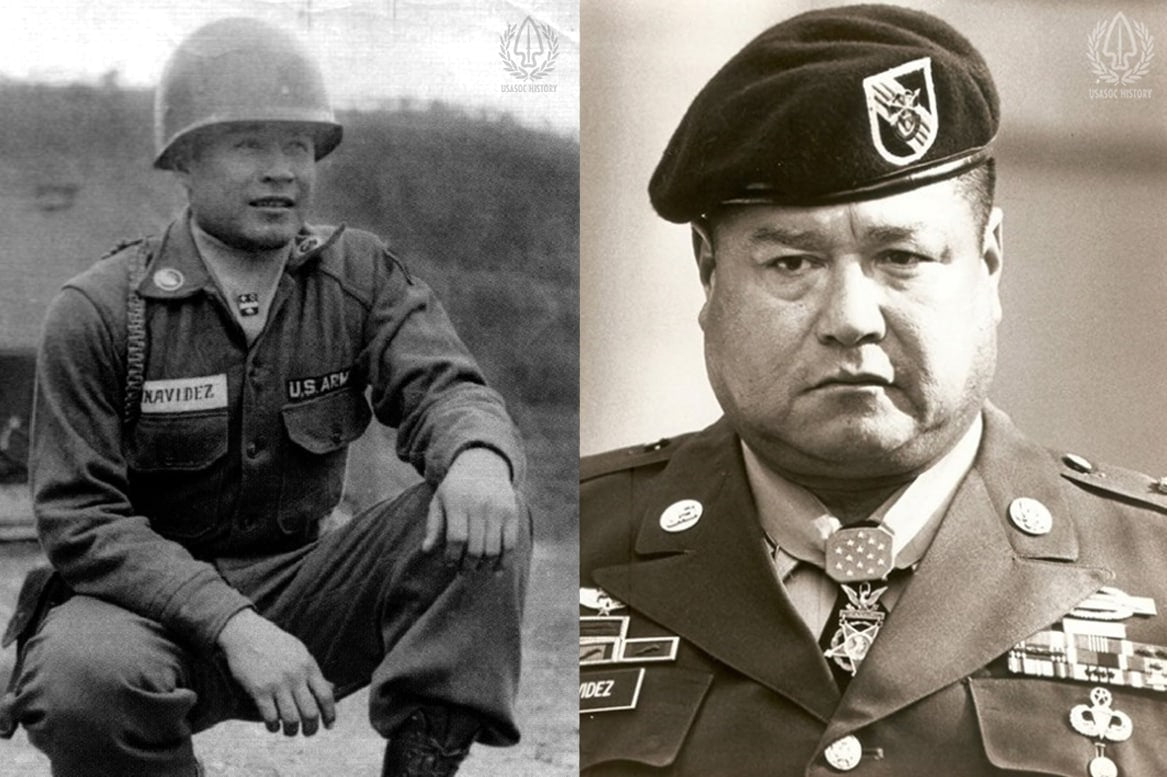 May 25 , 2023
Sergeant Roy P. Benavidez, known as "Tango Mike Mike" in the radio phonetic alphabet, was one of the most exceptional Green Berets in the history of the United States Army Special Forces. His tale is one of grit, courage, and extraordinary heroism, exemplified in a single mission that is etched into the annals of military history.

In 1968, West of Loc Ninh, South Vietnam, a 12-man Special Forces reconnaissance team was surrounded by an estimated 1,000 NVA troops. They were pinned down and casualties were mounting. Back at base, Benavidez heard the frantic radio calls for support. Without a second thought, he boarded a rescue chopper, armed with only his knife and medic bag.

As the helicopter approached the battle site, it became evident that the situation was dire. Benavidez didn't hesitate; he leapt from the hovering chopper, running nearly 75 meters to reach his trapped comrades. Enemy fire cut through the air, a bullet striking his leg, but Benavidez kept going.

Upon reaching the beleaguered team, he quickly set about tending to the wounded, even as he continued to pull others from the line of fire. He administered morphine to ease their pain, provided ammunition, and radioed in airstrikes. All the while, he himself was riddled with bullets, bayonets, and shrapnel.

With all remaining survivors gathered, Benavidez signaled the extraction helicopter. Under heavy enemy fire, he loaded his wounded comrades onto the aircraft, but the helicopter pilot was fatally shot and the helicopter crashed. Unfazed, Benavidez, although seriously injured, pulled the survivors from the wreckage, forming a defensive perimeter to hold off the enemy forces.

He called in airstrikes and another extraction, yet his ordeal was not over. Benavidez was attacked and stabbed by an enemy soldier, but with an adrenaline-fueled surge, he fought back, dispatching his opponent with his own bayonet.

A second helicopter finally arrived. Despite his numerous injuries and loss of blood, Benavidez, the embodiment of the warrior ethos, facilitated the safe extraction of the remaining soldiers. He made sure that everyone was on board before he allowed himself to be pulled onto the chopper.

Exhausted, bloodied, and on the verge of death, he had one last act of defiance left. At the base, a doctor, assuming he was dead, was about to place him in a body bag. Benavidez, with his last ounce of strength, spat in the doctor's face to show that he was still alive.

Sergeant Benavidez survived, against all odds, and his story reverberated throughout the military and beyond. For his gallantry and intrepidity, he was awarded the Medal of Honor by President Ronald Reagan in 1981, a well-deserved recognition for a man who risked everything for his comrades.

His exploits are a testament to his resilience, his unwavering commitment to his brothers in arms, and his indomitable spirit. Roy P. Benavidez's name is synonymous with heroism and self-sacrifice; his legacy continues to inspire generations of soldiers. His is the story of a true Green Beret – a man who went above and beyond the call of duty.
---
---