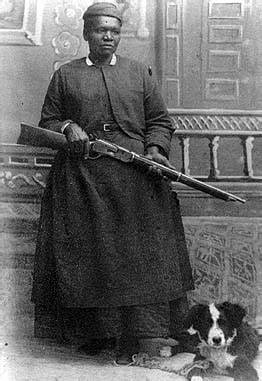 Feb 15 , 2023
Stage Coach Mary, also known as Mary Fields, was a legendary figure of the Wild West. She was an extraordinary woman who defied societal norms and shattered gender stereotypes, making her mark in history as a fierce and independent woman who lived life on her own terms. Her larger-than-life persona was bolstered by her propensity for violence and alcohol, making her a fascinating and complex figure.
Born into slavery in Tennessee in the mid-1800s, Mary's early life was marked by hardship and struggle. She was eventually freed after the Civil War, and although she lacked a formal education, she was an incredibly intelligent and resourceful woman who found her way to the American West. It was here that she made her mark as a stagecoach driver, and her story of adventure and triumph began.
Mary's reputation as a formidable figure began with her job as a stagecoach driver for the United States Postal Service. Despite being a woman in a male-dominated profession, she proved to be a skilled driver, handling horses with ease and navigating treacherous terrain with confidence. Her quick wit and sharp tongue, combined with her imposing physical stature, made her an intimidating presence on the road. She was known for her sharpshooting skills, and many would-be robbers thought twice about attacking her when they saw her brandishing her trusty rifle.
But it wasn't just her prowess as a driver and marksman that made Mary famous. Her tendency towards violence was also a defining characteristic of her persona. She was known for getting into fistfights and brawls, and was not afraid to use her strength to defend herself and those she cared about. There are even reports of her once knocking out a man's teeth with a single punch after he insulted her. It was this fierce determination and willingness to fight that earned her the nickname "Stagecoach Mary," and made her a beloved figure in the Wild West.
Mary's propensity for violence was matched only by her love of alcohol. She was often seen with a bottle of whiskey in hand, and was known to imbibe to excess. Her drinking habits sometimes got her into trouble, but it was also a source of comfort and solace for her. In a world that was often unforgiving and cruel, alcohol was a way for Mary to let loose and escape from the pressures of daily life.
Despite her rough exterior and tough demeanor, Mary was also known for her kindness and generosity. She had a soft spot for children and animals, and was known to take in stray dogs and cats. She was also a devout Catholic, and attended Mass regularly. Her faith was a source of comfort for her, and she often found solace in prayer.
Mary's legacy as a pioneer of the Wild West has endured long after her death. She was a trailblazer for women, proving that they could excel in professions that were typically reserved for men. Her fearlessness and tenacity made her a symbol of strength and resilience, and her story has inspired countless generations of women to follow in her footsteps.
But Mary's legacy is not without controversy. Some have criticized her tendency towards violence, arguing that it perpetuates harmful stereotypes of Black women as angry and aggressive. Others have raised concerns about the romanticization of her alcohol use, pointing out that it was likely a coping mechanism for the traumas she endured as a Black woman in a racist and sexist society.
Despite these criticisms, there is no denying that Mary's story is a fascinating one. She was a complex and multifaceted woman who defied expectations and lived life on her own terms. Her propensity for violence and alcohol only adds to her mystique, making her a fascinating figure who will continue to captivate audiences for generations to come.
---
---