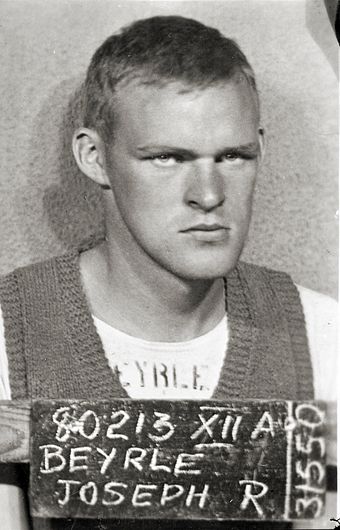 Jul 08 , 2023
Born in Muskegon, Michigan in 1923, Joseph R. Beyrle was drafted into the United States Army in 1942. Selected for the elite paratrooper force, he underwent rigorous training and was assigned to the 506th Parachute Infantry Regiment, 101st Airborne Division. His battalion was tasked with a vital mission: parachuting into Normandy in the early hours of D-Day, June 6, 1944, to sabotage German communications and clear the way for the main invasion force.
However, Beyrle's jump didn't go as planned. Anti-aircraft fire rocked his aircraft, causing him to jump at a dangerously low altitude. He landed safely but was soon captured by German forces. Thus began his ordeal as a prisoner of war.
Moved between seven different POW camps over the next several months, Beyrle faced severe conditions, including starvation rations, disease, and brutal treatment. He made escape attempts twice, each time tasting a brief spell of freedom before being recaptured.
In January 1945, Beyrle was held at Stalag III-C, near Berlin. Recognizing a fleeting opportunity, he staged a daring escape, heading eastward to meet the advancing Soviet Red Army.
Against all odds, Beyrle ran into a Soviet tank battalion, led by a female tank commander, Alexandra Samusenko. Proving his American identity with a pack of Lucky Strike cigarettes, marked with the word "American", Beyrle joined forces with the Soviet battalion. He became the only American soldier to fight officially for both the United States and the Soviet Union during World War II.
However, during a joint attack, Beyrle was wounded and evacuated to a Soviet field hospital. His incredible journey came to a close when he was repatriated to the United States.
Back home, his parents had been notified that he had been killed in action in June 1944, based on a report from a fellow paratrooper who had seen him jump into Normandy. The Beyrles had even received their son's death certificate. Imagine their surprise and relief when, in April 1945, they received a telegram from Beyrle, letting them know he was alive and on his way home.
After the war, Beyrle was awarded the Purple Heart, the POW Medal, and the Bronze Star. His tale of resilience and unity beyond borders paints an extraordinary portrait of a soldier's courage and the human will to survive, even in the most adverse circumstances. Joseph Beyrle's life is a testament to the undying spirit of an American soldier and a unique chapter in the annals of World War II history.
---
---