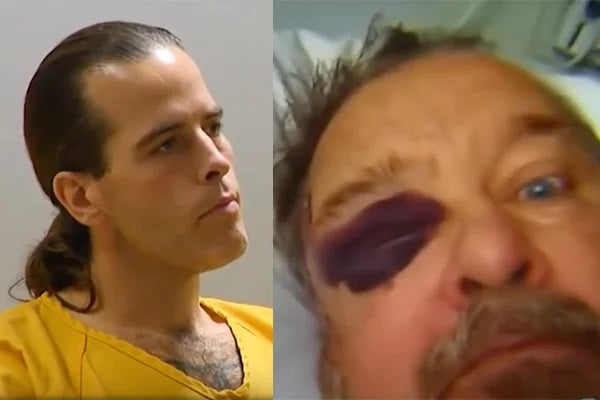 Aug 21 , 2020
 

ANCHORAGE, ALASKA- An Alaska man who attacked three registered sex offenders last year said he wants his story "to serve as a deterrent" to anyone tempted to turn their pain into violence or take the law into their own hands.

That's what he did in the summer of 2016. He is currently serving 23 years for his crimes.

He agreed to plead guilty to first-degree attempted assault and a consolidated count of first-degree robbery. In turn, prosecutors agreed to dismiss more than a dozen other charges against him as part of a plea deal, according to court records.

But he plead guilty to the 2016 assaults on one condition: that his sentence be no longer than the combined prison terms of his three "alleged victims" — all of them listed on Alaska's public sex offender registry for crimes related to children — plus the sentence given to the man who Jason Vukovich says molested him as a child.

Now, Vukovich says he wants to tell people:

"There is no place for vigilante justice in an ordered society."

He said he also wants to deter others from following the path he did. He said he was abused physically and sexually as a child. He never got help and had "no self-worth." He turned to crime and cycled in and out of jail cells for decades.

"If you have already lost your youth, like me, due to a child abuser, please do not throw away your present and your future by committing acts of violence," Jason Vukovich wrote in a letter he sent to a local newspaper.

He conducted an interview with Tegan Hanlon of the Anchorage Daily News sharing his thoughts and his story.

"I'm far from perfect — a flawed and imperfect individual like everyone else," he said.

The interview took place in a small room in the Anchorage jail.

"However, it's important to me that someone else who was born and raised in Alaska who had a similar upbringing doesn't end up with this outcome because quite candidly, it sucks."

 

Vukovich wore a yellow prison uniform, his arms covered in tattoos, his dark hair slicked back. Three teardrops are tattooed under his left eye; he says they stand for "the three doors of the mind."

Above his right eye, there's a Latin phrase, which he said means "fraternity of angels."

Back in the summer of 2016, he carried a notebook with a list of names, including Charles Albee, Andres Barbosa and Wesley Demarest.

Over five days, he entered the homes of the three men, uninvited, and hit them, sometimes with his fists and in the case of Demarest, with a hammer, knocking him unconscious. He also stole from them, taking items including a truck and a laptop, according to assistant district attorney Patrick McKay.

Vukovich called himself the "avenging angel" for children hurt by abusers. 

Vukovich told police that he targeted his victims based on their listings on Alaska's sex offender registry, according to the memorandum. The online registry includes their home addresses, work addresses and convictions.

Vukovich carried out his first attack the day after he got out of jail.

He said he had heard about the three men "through the grapevine," but did not know them personally. He said he felt like he had to confront them.

"I thought back to my experiences as a child and felt the overwhelming desire to act," he wrote in his November letter. "I took matters into my own hands and assaulted three pedophiles."

 

Vukovich was born in Anchorage in 1975.

He said he never knew his biological father. Around age 4, his mother's husband adopted him and, he said, later abused him.

"Both of my parents were dedicated Christians and had us in every church service available, two or three each week," he wrote.

"So, you can imagine the horror and confusion I experienced when this man who adopted me began using late, late night 'prayer' sessions to molest me. Also, he beat me with a custom made 2×4."

Vukovich identified his adoptive father as Larry Lee Fulton. A court document filed by Vukovich's attorney in an earlier criminal case also details his childhood of abuse and molestation by "Mr. Fulton."

A 1989 Anchorage Daily News article said Fulton was found guilty of second-degree abuse of a minor but received a three-year suspended sentence — meaning he didn't have to serve any active time in a prison cell.

Vukovich said that after the sentencing, his family moved to Wasilla and he was homeschooled. He said he received no counseling; no one ever checked in.

"When I was a little kid in my house, if some tatted-up guy would have kicked the door in and beat up the guy that was molesting me, I would have said … 'Yeah! Woo! I knew it! I can't believe it! Thank God,'" he said. "Because nobody cared."

 

His brother ran away, he said, and later he did the same.

Vukovich's mother could not be reached as part of the interview. According to a letter she sent Vukovich in jail this year, Fulton is dead, his ashes scattered in Alaska.

Vukovich said he moved to Washington state around age 16 with no form of identification. He started to steal to support himself, mostly from gyms where he knew people left their wallets unattended.

"From that point on, I turned into a thief," he said.

He said he was arrested for the first time about five months after he got to Washington. Then again nine months later. He said he worried that if he went to a homeless shelter or somewhere else to get help, they would call his parents and send him home to Alaska. So, he kept stealing.

"Being a thief and a liar fit nicely with my lack of self-worth, my silent understanding that I was worthless, a throw away," he wrote in his letter. "The foundations laid in my youth never went away."

 

Vukovich said he spent later years moving often, following construction jobs. If he got laid off, he would return to stealing.

"Time and again, my choices reflect a lack of concern for myself and others," he wrote. "Many, many nights I simply wanted to die."

According to court documents filed in Alaska, Vukovich has a criminal history in Washington, Oregon, Idaho, Montana and California. Vukovich said he moved back to Alaska about a decade ago.

Here, he has been convicted for a string of charges including theft, possession of a controlled substance and assaulting his then-wife. Asked in December about the 2008 assault charge, he denied abusing his wife or their two children. Efforts to reach her were unsuccessful.

"She and I probably had a couple of wrestling matches," Vukovich said.

Vukovich described himself as "a simple man."

"I'm a complete and utter failure by worldly standards, but I've learned a lot," he said in the jail interview.

His attorney, Ember Tilton, said he believed Vukovich should be under some type of correctional supervision "for a very long time," receive treatment for post-traumatic stress disorder and participate in a program for violent offenders. He did not believe his client should be treated like a number and handed a "cookie-cutter" sentence.

"I don't think he needs to be punished," he said. "He's already been punished. This whole thing started out as the punishment of a child who didn't deserve to be treated in that way."

When people don't have the opportunity to address childhood issues, he said, they don't behave well. Vukovich certainly didn't, but he needs help, he said.

"The cycle will continue in society, not just for Mr. Vukovich, but for others if we can't do something to stop it," he said.

Wesley Demarest, one of the men Vukovich attacked, said that he would prefer it if Vukovich "is not walking around while I'm alive."

Demarest was convicted in 2006 for attempted 2nd degree sexual abuse of a minor. One must wonder if his victim feels the same.

Vukovich broke into his home last year and smashed his head repeatedly with a hammer.

Demarest said he has a lasting traumatic brain injury. It's hard for him to string words into sentences. He lost his job. He can't pay his rent.

"It just pretty well destroyed my life," he said. "So, he got what he wanted I guess."

Vukovich said he did not intend to injure Demarest as seriously as he did and "regrets that deeply."

He said he hopes one day to have some freedom, but what's important to him is to share his story so people avoid the "pitfalls" and "traps" he walked into when he channeled his pain and hate into crime. He advised people who have suffered abuse to talk to someone who loves them, not to act out.

 

 
---
---