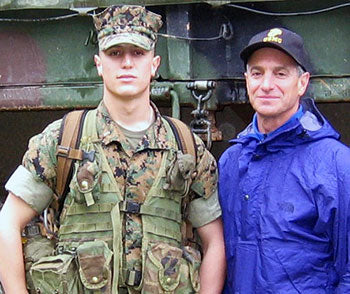 Jun 25 , 2023
Dr. Bill Krissoff, an orthopedic surgeon from California, experienced a life-changing tragedy when his son, Marine Lieutenant Nathan Krissoff, was killed in Iraq in 2006. Nathan's death ignited a sense of duty in Dr. Krissoff to continue his son's legacy of service. At 61, an age when most think of retirement, he decided to join the U.S. Navy Medical Corps to serve as a surgeon for the troops, but faced age-related barriers.

Not one to be easily deterred, Dr. Krissoff found an opportunity to speak with then-President George W. Bush, who was visiting with families of fallen soldiers. He expressed his desire to enlist and serve the medical needs of wounded warriors. Moved by his commitment, President Bush expedited the waiver process.

Dr. Krissoff was commissioned as a Lieutenant Commander in the Medical Corps of the U.S. Navy. He was deployed to Iraq and later to Afghanistan, where he performed countless surgeries, often under intense and austere conditions, to save the lives of American service members and local civilians.

Beyond his surgical skills, Dr. Krissoff brought with him a father's compassion and understanding. He knew that behind every wounded soldier, there was a family who loved them. His presence was a comfort to many young service members who were far from home.

While his story is not one of guns-blazing heroism, it is a poignant example of selfless service and dedication. At an age when he could have sought the comfort of civilian life, Dr. Krissoff chose to honor his son's memory by serving his country and dedicating his skills to the welfare of others.

Dr. Bill Krissoff's commitment to service is a reminder that heroism takes many forms. His story speaks to the enduring spirit of sacrifice, and the understanding that one is never too old to make a meaningful contribution to a greater cause.
---
---