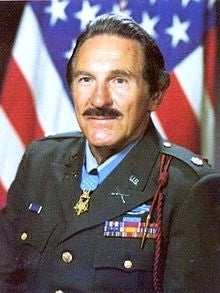 Apr 24 , 2022
Matt Urban
Matt Urban (1919-1995) was the most decorated soldier in U.S. military history, receiving 29 medals and awards for bravery during his 20 months of service in Europe during World War II.
Matt Urban was born in Buffalo, New York, on August 25, 1919, just after the end of World War I. He excelled at sports, particularly boxing, and dreamed of a career as an athletic coach. Urban graduated from Cornell University with a degree in history and government. His career plans were interrupted by the entry of the U.S. into World War II in December 1941.
Glory
While in college, Urban joined the Reserve Officer Training Corps and was an early draftee. His first assignment was as Morale and Special Services Officer with the 9th Infantry Division, which was to participate in the invasion of North Africa in November 1942. During the unit's first action, Urban exhibited the courage and willingness to take independent actions that were to make him an outstanding soldier.
While the 9th Division boarded landing craft to invade North Africa, Urban was ordered to remain aboard ship to prepare entertainment for troops returning from the battle. Upon hearing that heavy resistance was being met on the beach, Urban defied his orders and rowed himself to shore in a rubber raft to participate in the battle. While he was preparing to leave the ship, his colonel threatened him with a court martial for disobeying orders. Urban insisted that his rightful place was at the side of his friends who were in danger, and defied a direct order. Upon reaching the beach, Urban replaced a wounded platoon leader and was promoted to executive officer of the F Company of the 2nd Battalion for his exploits.
By March 1943, U.S. forces had advanced to Tunisia, where they and the British Eighth Army had trapped the remnants of the Afrika Corps. In an attempt to break out of their entrapment, German troops attacked U.S. positions in the vicinity of the Kasserine Pass, in the first major action involving American ground forces in World War II. Urban distinguished himself in these engagements, knocking out a German observation post single-handedly and then leading F Company in a successful frontal assault on a strong enemy position. He suffered injuries to his hand and arm during these operations. Urban's unit also repelled numerous German attacks on their positions. For his efforts in the Battle of Kasserine Pass, Urban received two Silver Stars, a Bronze Star, and two Purple Hearts.
Following the Allied victory in North Africa, the 9th Division was shifted to Britain and participated in the invasion of Normandy. On June 14, 1944, Urban's unit became involved in an engagement near the town of Renouf, France, just inland from Utah Beach. During this fight, Urban used a bazooka to destroy a German tank and suffered a severe injury to his left leg. On the following day, he was shot through the right forearm, and was evacuated to England to recuperate.
While confined to a hospital in southern England, Urban read a newspaper account of his unit's exploits near the town of St. Lo, France. When he heard that the 2nd Battalion had suffered heavy casualties, Urban discharged himself from the hospital and made his way to the front, still limping from his leg wound. Upon his arrival at the front, Urban was immediately engaged in a furious firefight. With the 2nd Battalion pinned down by heavy artillery fire and threatened with encirclement, Urban led his force forward, helped man a tank that had suffered crew losses, and eventually brought the battalion to safety. Shortly after this battle, the commander of the 2nd Battalion was killed, and Urban was promoted to become his replacement. When subsequently wounded by shrapnel in the lower back and chest, Urban refused hospitalization to remain in action with his unit. Marveling at his ability to return to action after being wounded, Urban's fellow soldiers nicknamed him "The Ghost."
Soldiers who were not familiar with Urban could find his motivation and initiative in combat baffling. In after-action reports of Urban's conduct in the battles near St. Lo, one soldier referred to him as "one of the craziest officers" who was "probably a replacement" given his seemingly foolhardy lack of fear during fierce combat. The same soldier went on to report that Urban's heroics, despite their apparent craziness, inspired his unit to move forward and fight their way to safety.
Allied forces broke out of the Normandy Peninsula during the summer of 1944 and raced across France and into Belgium, Luxembourg, and the Netherlands. By September, Urban and his unit were involved in fighting in the vicinity of Philippeville, Belgium. As the 2nd Battalion attacked German defensive positions, Urban was hit in the neck by a machine gun bullet. His injuries appeared so severe that he was administered last rites by a priest on the scene. Urban managed to survive his injuries; however, he suffered permanent damage to his vocal chords. By the time he had recovered from this injury, in February 1946, World War II had ended. At the end of the war, Urban had accumulated 11 medals for participation and valor, but there were many more to come.
A colonel and a staff sergeant who had witnessed the limping Urban returning to the front to lead his men near St. Lo had filled out paperwork recommending that Urban be awarded the Congressional Medal of Honor. Unfortunately, the colonel was killed in action shortly thereafter, and the paperwork was lost in the Army bureaucracy where it would remain, unseen, for more than 35 years.
A reporter conducting research on Urban's military service in the late 1970s discovered the lost Medal of Honor recommendations. The Army began conducting investigations of his conduct to determine his worthiness for the Medal. Upon locating several eyewitnesses to Urban's exploits, the recommendation was upheld. On July 19, 1980, President Jimmy Carter presented Urban with the Congressional Medal of Honor. With receipt of this medal, Urban became the most decorated soldier in the history of the U.S. armed forces.
Urban's Medal of Honor citation was unusual for a reason other than its tardiness: it cited him not for one act of bravery alone, but for consistent bravery exhibited over several actions. As reprinted in the Congressional Record it reads: "Captain Urban's personal leadership, limitless bravery and repeated extraordinary exposure to enemy fire served as an inspiration to his entire battalion. His valorous and intrepid actions reflect the utmost credit on him and uphold the noble traditions of the United States Army."
After leaving the army, Urban secured a position as a writer on veterans' affairs for Liberty Magazine.After three years as a writer, Urban returned to the field of athletics and recreation as the city recreation director for Port Huron, Michigan, a position he held from 1949 until 1956. He then served as the director of the Monroe, Michigan community center for 16 years before becoming director of the Holland, Michigan civic center and recreation department in 1972. Urban became a devoted softball player and enthusiast, and was known around Holland as "Mr. Softball." He retired in 1989, stating that he might well have become a lawyer or public speaker had his vocal chords not been damaged in combat. Urban remained active in veteran's affairs and provided assistance to young people embarking on military careers. Urban died on March 4, 1995, in Holland, Michigan. The city of Holland named a public park and a recreation complex in his honor later that year.
---
---