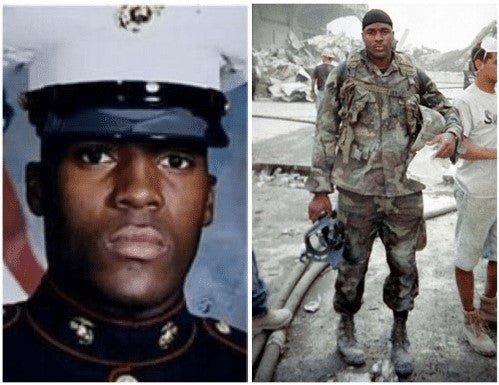 Sep 20 , 2022
Sgt. Jason Thomas had been out of the Marine Corps for about a year, when he was dropping his daughter off at his mother's Long Island home on the morning of September 11th when she told him planes had struck the Twin Towers. He retrieved his Marine uniform, sped to Manhattan and parked his car when one of the towers collapsed. Thomas headed directly into the fallen rubble and cloud of ash.
"Someone needed help. It didn't matter who," he said. "I didn't even have a plan. But I have all this training as a Marine, and all I could think was, 'My city is in need."

Thomas ran into another former Marine, Staff Sgt. David Karnes (who was also wearing his uniform), and together the pair searched for survivors. Carrying little more than flashlights and an infantryman's shovel, they climbed the mountain of debris, skirting dangerous crevasses and shards of red-hot metal, calling out "Is anyone down there? United States Marines!"

It was dark before they heard a response from two fallen police officers who were pinned under the debris. The two Marines crawled into a deep pit to find McLoughlin and Jimeno, injured but alive.

Sgt. Thomas returned to Ground Zero every day for another 2 1/2 weeks to help in any way he could. His identity remained a mystery until Oliver Stone's 2006 film "World Trade Center" chronicled the rescue of the officers, and Thomas stepped forward.

After 9 days of helping at Ground Zero, Sgt. David Karnes returned to Connecticut and re-enlisted. Later he served two tours of duty in Iraq.

The efforts of both men have remained inspiring for many Americans who survived the September 11 attacks. For their selflessness and bravery, we remember their actions. 
Hope had long ago blinked out for Will Jimeno and John McLoughlin, the Port Authority policemen interred in the trade center basement. With three other cops, they had been approaching an elevator, planning to help with the evacuation, when they were buried by the collapse of the first tower. Jimeno was so immersed in the rubble that a paramedic would later say he looked like he'd been poured out of a dump truck.
Two of the policemen died instantly; a third managed to free himself, but decided to stay with Jimeno and McLoughlin while calling for help because he was afraid he wouldn't be able to find his way back in the trackless rubble. He was killed in the collapse of the second tower. Then the advancing flames began cooking off the 15 cartridges from his pistol. Jimeno, clutching his hand to his face in the vane hope it would stop a stray bullet, gave up: "I closed my eyes and I wanted to die."
How the men finally linked up is best left to their own words. Thomas and Jimeno are both interviewed extensively in The Lost Hero, and their accounts are gripping. The rest of the documentary is not always up to their efforts; though The Lost Hero is far superior to most accounts of the rescue, it's still a little soft around the edges. Thomas' exact status with the Marines, for instance, and why he had a uniform in the trunk of his car, are never explained. (That doesn't necessarily mean the answer is suspicious—the other Marine, Karnes, was retired, but also had a uniform handy. Maybe it's just a Marine thing.) Neither is his subsequent decision to drop out of law school.
Part of the reason for the blurry areas in The Lost Hero may be that there's some friction among the principal characters. It appears that Jimeno, McLoughlin, Karnes and Thomas have never set together for an interview; every story on the rescue quotes one or two of them, but never all four.
Another, more fundamental, reason may be that even all these years later, Thomas has no real comprehension of what drew him to Manhattan that day when so many others were running away. After the rescue, he kept coming back every day for three weeks, continuing his search, though without any luck. Even his family had no idea what he had done. He didn't speak up until 2006, when investigative fantasist Oliver Stone's film about the rescue, World Trade Center, used a white actor to play the black Thomas.
What is certain is that, at a moment when mankind's darkest impulses were on full and horrifying display in the mass murder of 3,000 people, Thomas reminded us of the best ones. He didn't have to help; he did. He didn't have to enter the hellish remains of the trade center; he did. The Lost Hero is an affirmation of human decency on a day when there didn't seem to be any.
---
---