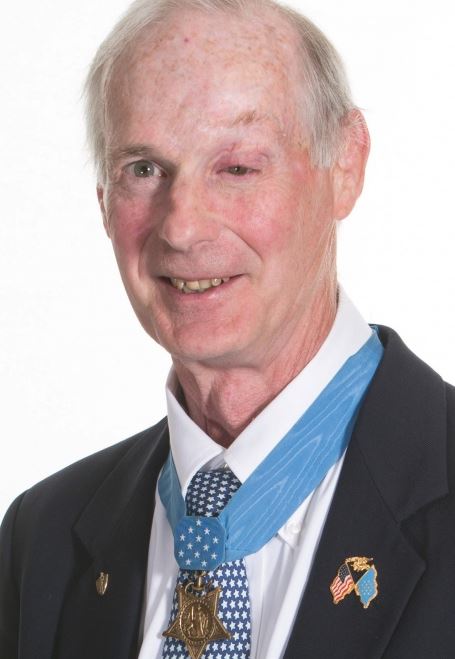 May 09 , 2022
Lt. Thomas R. Norris and Petty Officer 3rd Class Nguyen Van Kiet. Norris was awarded the Medal of Honor and Kiet was recognized with the Silver Star.

On April 2, 1972, an EB-66 carrying Lt. Col. Iceal Hambleton was shot down near the DMZ and right in the middle of the North's Easter Offensive. Hambleton's extensive knowledge of critical information made him a high priority for rescue.

However, efforts by air led to the loss of additional aircraft and more airmen killed. Finally, an attempt by ground was ordered.

The man in charge of the mission was U.S. Navy Seal Lt. Thomas Norris. He initially led a five-man team into hostile territory and was able to recover another downed flyer, Lt. Mark Clark – son of WWII General Mark Clark, who had been shot down searching for Hambleton.

Norris then led another mission but was unsuccessful in locating Hambleton. With time running out Norris devised a daring mission.

Norris, accompanied only by a South Vietnamese Commando, Nguyen Van Kiet, disguised themselves as fishermen and traveled deep into enemy territory. Patrolling through enemy infested jungles, Norris was able to locate Hambleton.

He loaded Hambleton into their sampan and covered him with bamboo and successfully navigated their way back to American lines while evading North Vietnamese patrols.

Just as they were reaching their base, they came under intense enemy fire, which Norris neutralized with a well-placed air strike.

For his highly successful, highly classified mission Norris was awarded the Medal of Honor. Nguyen Van Kiet became one of the few Vietnamese to receive the Navy Cross.
CITATION
Lt. Norris completed an unprecedented ground rescue of two downed pilots deep within heavily controlled enemy territory in Quang Tri Province. Lt. Norris, on the night of 10 April, led a five-man patrol through 2,000 meters of heavily controlled territory, located one of the downed pilots at daybreak, and returned to the Forward Operating Base (FOB). On 11 April, after a devastating mortar and rocket attack on the small FOB, Lt. Norris led a three-man team on two unsuccessful rescue attempts for the second pilot. On the afternoon of the 12th, a forward air controller located the pilot and notified Lt. Norris. Dressed in fishermen disguises and using a sampan, Lt. Norris and one Vietnamese traveled throughout the night and found the injured pilot at dawn. Covering the pilot with bamboo and vegetation, they began the return journey, successfully evading a North Vietnamese patrol. Approaching the FOB, they came under heavy machine-gun fire. Lt. Norris called in an air strike which provided suppression fire and a smoke screen, allowing the rescue party to reach the FOB. By his outstanding display of decisive leadership, undaunted courage, and selfless dedication in the face of extreme danger, Lt. Norris enhanced the finest traditions of the U.S. Naval service.
1972: Lieutenant Thomas Norris stands in the background at center as Lieutenant Colonel Iceal Hambleton (on the stretcher), a United States Air Force navigator and electronic warfare officer who was shot down over South Vietnam during the 1972 Easter Offensive, is taken to a waiting M113 armored personnel carrier to be evacuated. Norris was tasked with mounting a ground operation to recover Lt. Col. Hambleton, 1st Lt. Mark Clark, and 1st Lt. Bruce Walker from behind enemy lines. Norris, along with Vietnamese commando Nguyễn Văn Kiệt, successfully brought out two of the three downed airmen from more than 1.2 miles behind enemy lines. (U.S. Dept. of Defense)
On April 10, 1972, Lieutenant Thomas Norris led a five-man patrol deep into enemy territory. Separating temporarily from his patrol, he traveled alone through the jungle and located one of the downed pilots just before dawn. He led his crew safely back to their forward operating base. Later that day, a North Vietnamese rocket attack on the small base inflicted devastating casualties and compelled the medical evacuation of the one other American officer, the remaining Vietnamese officers and all but a remnant of the Vietnamese supporting force. After an unsuccessful attempt to rescue the first missing flier, two of Norris's three remaining Vietnamese commandos proved unwilling to accompany Norris on further missions.
Lieutenant Thomas R. Norris in Vietnam with Nguyễn Văn Kiệt, the Vietnamese Sea Commando who accompanied him on the rescues of 1st Lt. Mark Clark and Lt. Col. Hambleton. Kiệt was one of five Vietnamese commandos to accompany Norris, and when the others refused to pursue the mission further, volunteered to assist Lt. Norris. Nguyễn Văn Kiệt was a Petty Officer Third Class in the Republic of Vietnam Navy, the only South Vietnamese Navy member, to be awarded the Navy Cross for actions during the Vietnam War. (Photo courtesy of Thomas Norris)
On the afternoon of the 12th, a forward air controller located the first pilot and notified Lt. Norris. Dressed as fishermen, Lt. Norris and a Vietnamese comrade, Nguyen Van Kiet, paddled a sampan up the river and found the injured pilot at dawn. Concealing him in the bottom of their vessel, Norris and Kiet headed downriver to their base, dodging one North Vietnamese patrol and surviving heavy machine-gun fire from a bunker along the river. This extraordinary rescue has been recounted in numerous books and a feature film, BAT-21, the Air Force code name for the original reconnaissance mission.
The following October he received a near-fatal head wound in action and was rescued by his fellow Navy SEAL, Michael Thornton. At first, Norris's doctors gave him little chance of recovery, but with constant encouragement from his family and from Michael Thornton, Norris fought on. In time, Norris and Thornton enjoyed the unique satisfaction of witnessing each other's Medal of Honor ceremonies at the White House.
Tommy Norris ultimately realized his youthful ambition of joining the FBI. After many years of distinguished service in FBI hostage rescue operations, he now enjoys a well-earned retirement in Idaho.
---
---