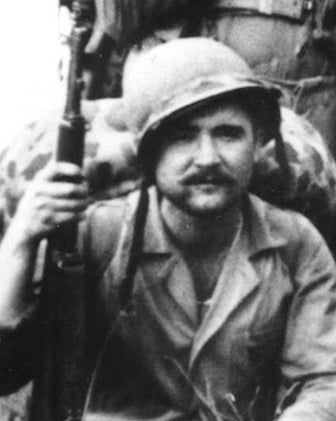 Jun 21 , 2022
Walter Henry Allen was born in Philadelphia, Pennsylvania on May 17, 1915. He was a veteran Marine Parachutist before joining the 5th Marine Division at Camp Pendleton.
Allen served as a Squad Leader in Company H, 3rd Battalion, 26th Marines while on Iwo Jima. He was the oldest man in 1st Platoon and he was a true, "Old Corps Marine".
On February 22, 1945, while leading his squad through heavy small arms and artillery fire in an assault on a strongly defended enemy position, Sergeant Allen and his men became isolated in front of his platoon which suffered heavy casualties, including the Platoon Leader.
With his squad vulnerable on the flanks and in the rear, he repeatedly exposed himself to the heavy fire while deploying his squad to cover the platoon front, and after contacting units on his left and right, renewed the attack on his own initiative, knocking out at least two pillboxes and many other hostile installations.
He then sent word of the situation to his Company Commander and, despite additional casualties among his men, captured the enemy position and continued to advance along the platoon front until ordered to stop.
His aggressive leadership and determined fighting spirit earned him the Navy Cross for his actions.
Sergeant Walter H. Allen received the Navy Cross in Feb. 1945 on Iwo Jima serving Company H of the 3rd Battalion 26th Marines.
He was a veteran Marine Parachutist before joining the 5th Marine Division at Camp Pendleton.He was the oldest man in 1st Platoon and he was a true "Old Corps Marine".
He continued his service after the war and served with 1st Battalion, 7th Marines, 1st Marine Division in Korea.
Technical Sergeant Allen was killed in action by enemy small arms fire on April 23, 1951 and received a posthumous Bronze Star with "V" device.

1940-1940: MCB San Diego, California
1940-1942: NALF San Clemente
1943-1944: 1st Parachute Bn, 1st Parachute Regiment
1944-1946: H Co, 3rd Bn, 26th Marine Regiment (3/26)
1947-1947: 2nd Bn, 5th Marine Regiment (2/5)
1951-1951: G Co, 3rd Bn, 7th Marine Regiment (3/7)
---
---