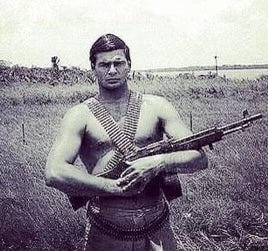 Apr 16 , 2022
Medal of Honor recepient Navy Seal Michael Thorton was born in Greenville, South Carolina and raised on the family farm near Spartanburg. Thornton joined the Navy upon graduating from high school in 1967 and completed the rigorous training to join the SEALs, the Navy's elite sea-air-land special operations force. As overall American conventional forces were gradually withdrawn from Vietnam in the early 1970s, the "unconventional warfare" role of Navy SEALs grew. In the spring of 1972, Petty Officer Thornton was assigned to a mission under the command of Lt. Thomas Norris. Michael Thornton's Medal of Honor citation reads:
For conspicuous gallantry and intrepidity at the risk of his life above and beyond the call of duty while participating in a daring operation against enemy forces.

"PO Thornton, as Assistant U.S. Navy Advisor, along with a U.S. Navy lieutenant serving as Senior Advisor, accompanied a three-man Vietnamese Navy SEAL patrol on an intelligence gathering and prisoner capture operation against an enemy-occupied naval river base. Launched from a Vietnamese Navy junk in a rubber boat, the patrol reached land and was continuing on foot toward its objective when it suddenly came under heavy fire from a numerically superior force.

"The patrol called in naval gunfire support and then engaged the enemy in a fierce firefight, accounting for many enemy casualties before moving back to the waterline to prevent encirclement.
"Upon learning that the Senior Advisor had been hit by enemy fire and was believed to be dead, PO Thornton returned through a hail of fire to the lieutenant's last position; quickly disposed of two enemy soldiers about to overrun the position, and succeeded in removing the seriously wounded and unconscious Senior Naval Advisor to the water's edge. He then inflated the lieutenant's lifejacket and towed him seaward for approximately two hours until picked up by support craft.

"By his extraordinary courage and perseverance, PO Thornton was directly responsible for saving the life of his superior officer and enabling the safe extraction of all patrol members, thereby upholding the highest traditions of the U.S. Naval Service."
Collier provides more detail of the engagement and rescue:
"During the five-hour firefight, Thornton was wounded in his back. Norris ordered Thornton and two of the South Vietnamese SEALs to fall back to a sand dune to the north and provide covering fire. Not long after, the Vietnamese SEAL who had stayed behind arrived at Thornton's position and told him that Norris had been killed. Thornton charged back over 500 yards of open terrain to Norris. When he got there, he killed two enemy soldiers standing over the lieutenant's body. He lifted Norris, barely alive and with a shattered skull, and began to run back toward the beach, enemy fire kicking up all around him.

"The blast from an incoming round fired by the USS Newport News blew both men into the air. Thornton picked up Norris again and raced for a sand dune and then retreated 300 yards to the water. As he plunged into the surf, Thornton lashed his life vest to the unconscious officer's body. When another SEAL was hit in the hip and couldn't swim, Thornton grabbed him and slowly and painfully swam both men out to sea. Despite his wounds, Thornton swam for more than two hours. All three wounded men were rescued by the same junk that had dropped them off 16 hours earlier.
---
---