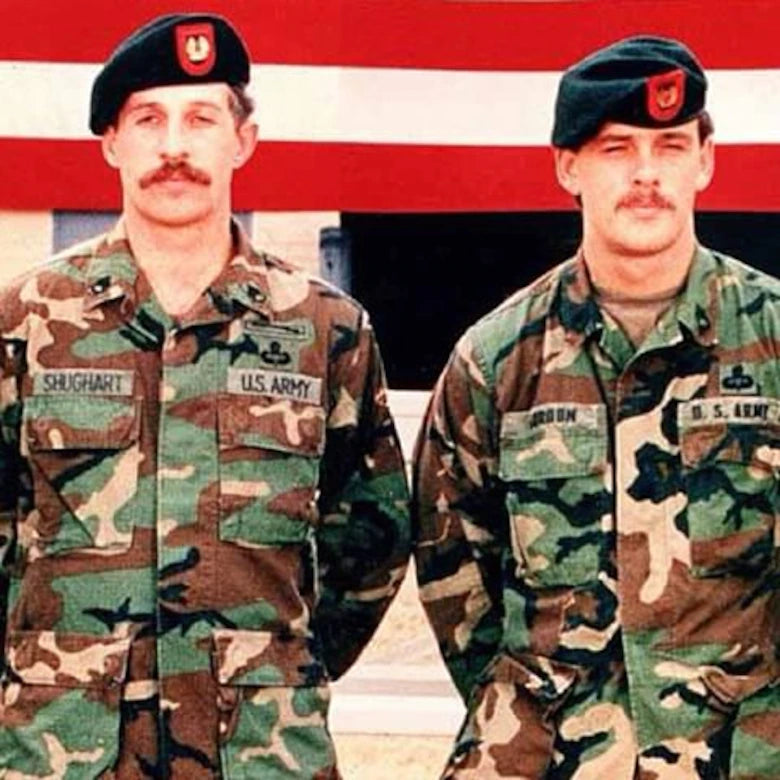 May 23 , 2022
If you've ever seen the movie "Black Hawk Down," then you know the story of Army Master Sgt. Gary Gordon. Gordon and his comrade, Army Sgt. 1st Class Randall Shughart, made the most difficult decision service members could ever make — to give their lives for their brothers in arms. This Medal of Honor Monday, we honor Gordon's life and sacrifice during a 1993 humanitarian crisis in Somalia.
Gary Gordon was born Aug. 30, 1960, and grew up in Lincoln, Maine. At the age of 18, he joined the Army and was a combat engineer for many years before being selected for the elite Special Forces group known as Delta Force. 
The Crisis
In the fall of 1993, civil war was raging in Somalia, which destroyed agriculture and led to widespread starvation. The United Nations stepped in to send humanitarian aid, but the food rations were often seized by local warlords.
By late August, the U.S. sent in Special Forces operators, including Army Rangers and Delta Force soldiers, to protect those humanitarian efforts and crack down on the warlords. This led to the First Battle of Mogadishu on Oct. 3, 1993. It was supposed to be a quick raid of the Somali capital to capture high-value targets associated with warlord Mohamed Farrah Aidid. But it didn't go as planned. 
The Decision
Gordon was a sniper team leader in the lead helicopter of several that were providing air support during the raid. As the chopper got hit with intense gunfire and rocket-propelled grenades, Gordon's team learned that two other Black Hawk helicopters had been shot down. 
When Gordon learned that ground forces weren't going to make it to the second crash site to secure it, he and Shughart, another Delta Force soldier, volunteered to protect the downed chopper's survivors. They were both well aware that a hoard of militants was closing in on the crash site, and if they didn't help, the survivors wouldn't stand a chance. But they also knew they likely wouldn't, either. 
Twice they asked for permission to go in, and twice they were denied — it was too dangerous. But on the third request, leaders finally gave them the go-ahead. 
Selfless Sacrifice
Gordon and Shughart were inserted about 100 meters south of the crash site. To get to the downed chopper, they fought their way through enemy gunfire and "a dense maze of shanties and shacks," as the Medal of Honor citation read.
The downed helicopter's co-pilot and crew chiefs — Ray Frank, Tom Field and Bill Cleveland — were dead when they got to the wreckage. But Gordon pulled the badly injured pilot, Chief Warrant Officer 3 Michael Durant, from the helicopter. Gordon and Shughart then established a perimeter around the chopper, putting themselves in the most vulnerable position.
Armed with only a sniper rifle and a pistol, Gordon killed several attackers closing in on the site. When he ran out of ammunition, he dug some of the weapons and ammo out of the downed chopper, gave some of it to a dazed Durant, then radioed for help. 
Eventually, Shughart was fatally wounded, and Gordon again ran out of rifle ammo. He grabbed one last rifle with the last five rounds of ammo from the wreckage, gave it to Durant and said, "Good luck." He then went back into the fray to fight off the enemy with just his pistol. He was quickly shot and killed. 
The site was overrun by the militants, who took Durant hostage. He was let go about two weeks later, but it was the selfless actions of Gordon and Shughart that ultimately saved his life.
Meanwhile, the full-scale battle continued into the early morning — about 15 hours total — and led to the deaths of 18 American service members, with many more wounded. 
Honor
As Gordon and Shughart died together, they were honored together, too. Both men posthumously received the Medal of Honor on May 23, 1994, during a ceremony at the White House. Gordon's wife and two children accepted it on his behalf. 
"Gordon and Shughart knew their own chances of survival were extremely bleak. The pilot of their helicopter said that anyone in their right mind would never have gone in, but they insisted on it because they were comrades in danger, because they believed passionately in the creed that says, 'I will not fail those with whom I serve,'" President Bill Clinton said at the ceremony. "Gary Gordon and Randall Shughart died in the most courageous and selfless way any human being can act. They risked their lives without hesitation."
Gordon has been fondly remembered throughout the military since that day. The Navy named a sealift ship, USNS Gordon, after him in 1996. An elementary school near Fort Bragg, North Carolina, was named in his honor, and there's also a memorial for him in his hometown. 
---
---