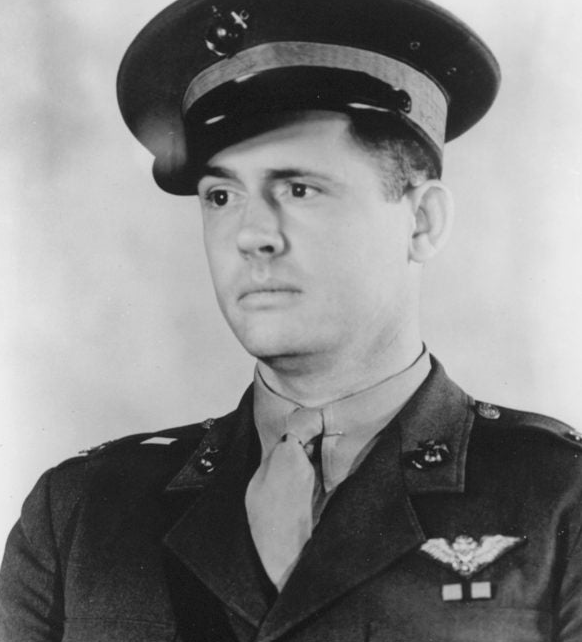 May 11 , 2022
The day after the attack on Pearl Harbor must have been a strange time for the U.S. military. But many didn't get the chance to ponder the new world order they lived in.
As Hawaii came under attack, other American military forces were under the gun from Japan at the same time. While the Imperial Navy left the U.S. Pacific Fleet in ruins within hours, the Battle of Wake Island would last for 15 days.
Unfortunately for the invading Japanese, the Marines posted an aviator named Capt. Henry "Hammerin' Hank" Elrod to Wake Island four days prior to the attack.
Elrod and his fellow pilots started with 12 F1F-3 Wildcats to defend the island. After the initial Japanese aerial bombing, only four survived.
That's when the full Japanese invasion fleet arrived.
The Marine pilots provided air cover for the defenders of the island. They helped the 450 Marines on the ground fend off a large naval bombardment from three light cruisers and six destroyers.
Marine artillery, using WWI-era battleship guns, struck the Japanese destroyer Hayate – they hit its magazine and the ship exploded. Elrod then bombed and strafed the destroyer Kisiragi, sending it to the bottom of the Pacific. His plane was heavily damaged and had to be scrapped for parts.
The Marines repelled the invasion, but that didn't stop the Japanese attack. The commander shelled the island incessantly.

When the Japanese bombers returned hours later, only one Wildcat still remained operational. With Hammerin' Hank at the controls, it flew to intercept 22 incoming enemy planes. He threw everything he had at the incoming planes and managed to take down two of them.

Over the next two weeks, the flightline mechanics managed to fix more planes — two at a time — by using the inoperable ones for parts. There was just too much coming at them.
Hank Elrod was killed on the beach at Wake Island as he led a group of Marines against the oncoming invasion troops, but not before capturing an enemy machine gun during an infantry charge.

While 90 percent of the defenders at Wake survived, they were sent to prison camps for the duration of the war. American forces would not attempt to retake the island, but would instead use a blockade to starve the Japanese defenders.

The Japanese would hold Wake Island until September 1945, two days after the formal surrender of Japan.

Henry Elrod was posthumously promoted to major and awarded the Medal of Honor by President Harry S. Truman.
---
---