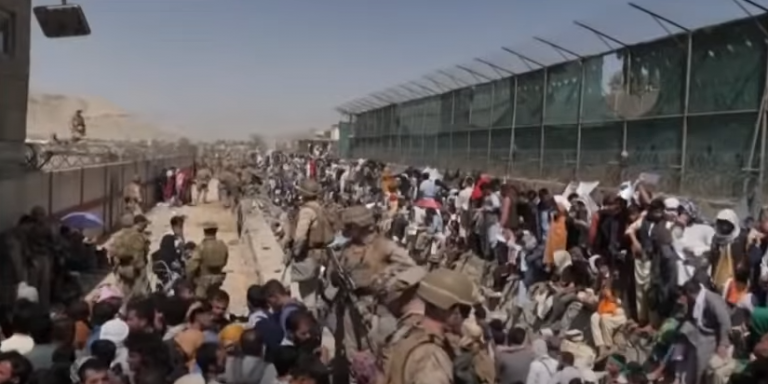 Aug 27 , 2021
Biden vows payback for deadly attacks on U.S. troops, but will keep Taliban's Aug. 31 withdrawal deadline.

McCarthy calls for House to return and vote on delaying Afghanistan withdrawal.

U.S. on alert for more ISIS attacks after 85 killed in Kabul airport carnage.

Don't call Biden's Kabul evacuation a 'Berlin Airlift' or 'Dunkirk.'

In Taliban-ruled Afghanistan, al Qaeda-linked Haqqani network rises to power.

Biden to face pressure on Iran Nuclear Deal in meeting with Israel's Bennett
Biden's Afghan Disaster

US troop death toll now at 13, with 18 wounded, in HKIA attack: CENTCOM. The number of U.S. service members killed in a series of attacks outside of Hamid Karzai International Airport in Kabul on Thursday is now 13, with another 18 wounded, according to a spokesman for U.S. Central Command.

Biden vows payback for deadly attacks on U.S. troops, but will keep Aug. 31 Afghanistan withdrawal plan. President Joe Biden said he was "outraged and heartbroken" over the deaths of 12 U.S. service members and serious injuries of 15 others at the Kabul airport on Thursday, and vowed to attack the terrorists who carried out the bombing.

U.S. officials provided Taliban with names of Americans, Afghan allies to evacuate. The White House contends that limited information sharing with the Taliban is saving lives; critics argue it's putting Afghan allies in harm's way.

McCarthy calls for House to return and vote on delaying Afghanistan withdrawal. House Minority Leader Kevin McCarthy (R-Calif.) on Thursday called for bringing the chamber back from recess so lawmakers can vote on legislation that would prohibit withdrawing U.S. troops from Afghanistan until all remaining Americans are evacuated.

AFGHAN EVACUATION

'Dead people were everywhere': Carnage and chaos at Kabul airport. Thousands of anxious Afghans seeking a new future were once again massing at Kabul's airport on Thursday, waiting to be frisked by the U.S. Marine Corps at Abbey Gate. There were five days left before the departure of the Americans, five days to escape a nation suddenly under control of the Taliban.

U.S. on alert for more ISIS attacks after 85 killed in Kabul airport carnage. U.S. forces helping to evacuate Afghans desperate to flee Taliban rule were on alert for more attacks on Friday after at least one Islamic State suicide bomber killed 85 people including 13 U.S. soldiers outside the gates of Kabul airport.

An army of veterans and volunteers organizes online to evacuate Afghans, from thousands of miles away. On a quiet, tree-lined street in the Bay Area, Jon Reed's computer screen swam with maps of Kabul, chat threads and text messages from Special Operations forces, other service members and civilian contractors inside and around Hamid Karzai International Airport.

UK in final stages of Afghan exit, taking no more evacuees. Britain will not accept any more people for flights out of Kabul beyond those already inside the airport after it shut its processing centre and entered the final stages of its evacuation from Afghanistan, defence minister Ben Wallace said on Friday.

Afghans left behind need an underground railroad. The U.S. military can help bring people out of the country long after the Kabul airlift ends.

Don't call Biden's Kabul evacuation a 'Berlin Airlift' or 'Dunkirk.' The crisis in Berlin originated in Moscow. Truman sought to protect people by holding firm. The crisis in Kabul is one solely of President Joe Biden's own making.

Afghanistan Crisis

In Taliban-ruled Afghanistan, al Qaeda-linked Haqqani network rises to power. Haqqani network's new prominence undermines Taliban's claims of severing terrorist ties.

After decades of war, ISIS and al Qaeda can still wreak havoc. The U.S. and its allies waged war for 20 years to try to defeat terrorists in Afghanistan. A double-suicide bombing demonstrated that they remain a threat.

THE SPIN BEGINS – Afghanistan war critics blame Biden for the current chaos. They need to look in the mirror. The tragedy's primary cause was the decision to withdraw, not the way the withdrawal was conducted.

Inside the hidden war between the Taliban and ISIS. The group took aim at the Islamic State offshoot, earning it some support from world capitals. The Kabul airport bombings raise the specter of a longer, bloodier battle.

National Security

House bill aims to bridge acquisition 'valley of death' in race to counter China. A draft of the House NDAA markup outlines two provisions to fix the gap between research and acquisition.

The war in Afghanistan is not over. We should not as a nation be rushing to raise the white flag of surrender to the Taliban and throw our Afghan allies under the bus before the Taliban even get the flagpole erected and the bus started.

China Threat

STRATCOM: China's pursuit of nuclear and hypersonic weapons adds urgency to U.S. deterrence. China's recent full-speed-ahead breakout in nuclear forces, space and cyber efforts, and hypersonic systems adds new urgency to America's need to ensure its deterrence systems are holding, U.S. Strategic Command's top officer said Thursday.

Iran Threat

Biden to face pressure on Iran Nuclear Deal in meeting with Israel's Bennett. Israeli Prime Minister Naftali Bennett is set to meet President Biden for the first time Friday at the White House, where he is expected to make the case that Washington should back off from reviving a deal to curtail Iran's nuclear program.

Military

US Navy will upgrade warships to add unnamed space capabilities. U.S. Navy ships will get new space capabilities in future upgrades as the service looks to increase its contribution to the military's space efforts, Navy officials said Thursday.

Pentagon Watch

Here's the Army rule for vaccine refusals, which service leaders brushed up on this summer. Army leadership has been eyeing the possibility of a mandated COVID-19 vaccine this summer, including in a June information paper originating from the Army's health care operations directorate that discusses how to deal with vaccine refusals.
---
---